Custom Deck Construction in Bloomfield Hills
---
Where do you and your family and friends enjoy the beautiful weather during the Michigan summer and fall? If you answered "indoors," it's time to consider adding a new deck, pergola, or gazebo to your home. Imagine hosting dinner parties or enjoying a lovely summer evening with your kids outside!
At Cedar Works Deck Builders, we bring over 25 years of experience in crafting unique, beautiful decks, gazebos, and pergolas for clients in the Bloomfield Hills area. Contact us today and let's get started building your perfect summer escape.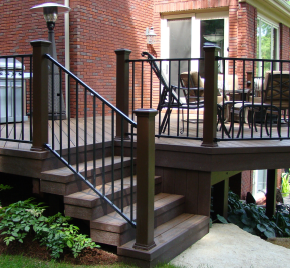 Types of Decks We Build in Bloomfield Hills, Michigan
Our expert deck consultants bring more than 25 years of experience in crafting beautiful, unique pergolas, gazebos, and decks for our clients in the Bloomfield Hills area.
We utilize a variety of wood types to create the perfect spaces for our clients, including cedar, Trex composite, and Ipe. Depending on your individual needs when it comes to creating your outdoor space, we may recommend one type over the others to preserve the appearance and functionality of your deck, pergola, or gazebo. Take a look at our options, and contact us to learn more about the materials we use to build custom decks in Bloomfield Hills, Michigan.
Cedar Decking
Cedar Works offers cedar deck construction to residents in the Bloomfield Hills, MI area, helping them create comfortable spaces for modern living. We offer a range of decking services and deck boards for your projects. All our decking materials are made of durable wood or composites.
Building decks is our specialty and we have been doing it for more than fifteen years. We can combine traditional decking installation services with porches, gazebos, pergolas, and trellis construction, depending on your needs.
We love Western red cedar deck wood because of how it deepens in color and texture over time. It contains natural oils and preservatives that make it weather resistant and virtually insect-free, suitable for most contemporary styles. However, we also offer other options for homeowners in Bloomfield Hills seeking alternative deck material.
We are passionate about your decking projects. We offer custom deck construction techniques that make it easy to achieve the ideal layout for your home. In doing this, we bring your vision to life throughout the blueprinting, permitting, coding and building phases.
Trex Composite Decking
Trex composite deck boards feature deep wood grains and come in various colors, making them suitable for virtually any new deck project. The decking material offers unsurpassed beauty, thanks to the high cedar wood content and deck frame. Plus it's versatile, fitting to practically any deck structure with corrosion-free stainless steel screws.
Ipe Decking
Ipe decking material comes from the South American ipe tree. Like cedar deck, it is naturally strong, durable, and stable. It's also well-suited to deck building because of how easy it is to use. Pressure-treated wood makes it a breath of fresh air compared to old deck boards.
Contact Cedar Works Deck Builders for Your New Deck Today
Are you ready to add a brand new custom deck to your home? The highly-trained expert deck builders at Cedar Works are here to help!
With over 25 years of experience, our team understands the importance of adding a new deck, pergola, or gazebo to your home or property, and we work closely with each client to truly capture their vision and bring it to life.
Contact us online or via telephone at 248-363-1113 and let's start working on your new addition today.
Click the links below to learn more about the kind of deck work we're known for!