Elegant Screened-In Porches in Commerce, MI and the Surrounding Areas
---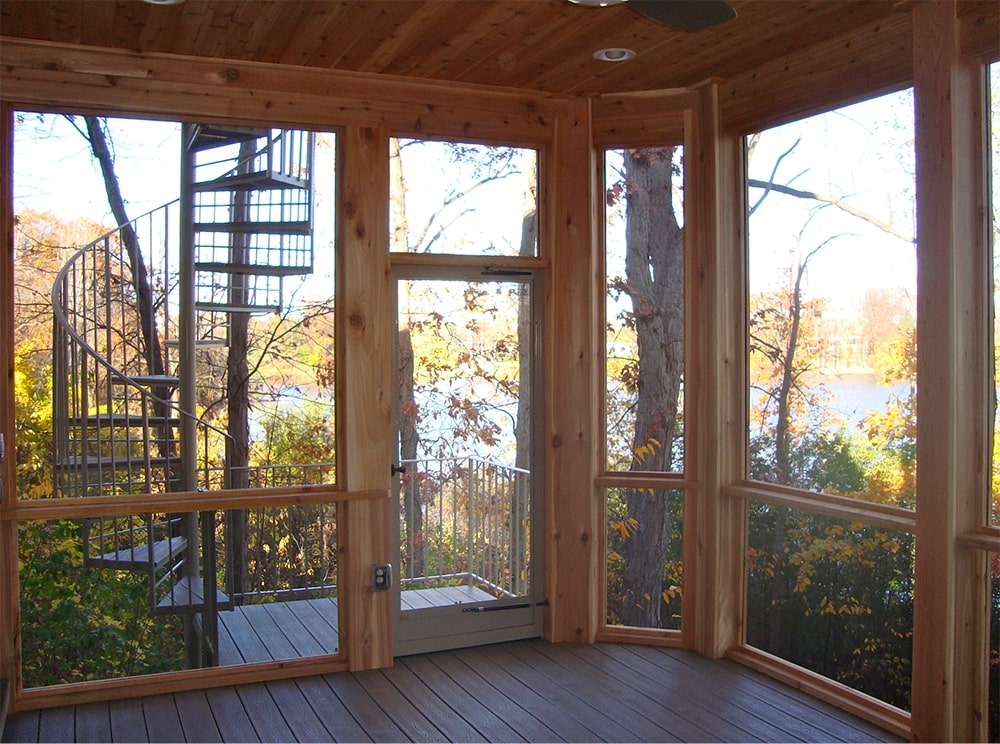 Porches have been a staple of American homes for centuries and are enjoyed from summer to fall. They offer a place to appreciate the outdoors while being protected from the elements, and they can add character and curb appeal to any property. Some things to think about are:
Why Should I Add A Porch To My Home?
Porch Construction
Porch Designs
Why Should I Add A Porch To My Home?
Porches are a great way for homeowners to enjoy the outdoors without having to leave the comfort of their own home. They can be used for relaxing, entertaining family and friends, or simply admiring the view. Porches can be attached to the front, back, or side of a house, and can be either covered or open. Screened in porches are a popular choice for homeowners because they are easy to build and maintain. They also provide a great space for families and friends to gather.
Whether you are looking to add curb appeal to your home or simply create a new gathering space, a porch is a great option.
Types of Porches
There are several different types of porches that can be added to a home. The most common types are:
Stoop

A small set of steps leading up to the front door.

Portico

A porch that has a roof supported by columns.

Veranda

A porch that is open on all sides.

Screened-in porch

A porch with screens on all sides, and a roof to protect you from the bugs and elements.
Porches can be made out of a variety of materials, including wood, brick, stone, or even concrete. No matter what material you choose, a well-designed porch can add both beauty and functionality to your home.
Screened in Porches
Screened-in porches are becoming a popular choice for many homeowners. There are many benefits to screened-in porches, including protection from bugs, sun, and rain. Screened-in porches also provide an extra layer of security for your home, keeping out unwanted intruders. They can be built using a variety of materials, including wood, metal, and glass. If you're considering adding a screened-in porch to your home, be sure to consult with a professional to ensure that it meets all local building codes.
Porch Construction
Before you start porch shopping, it's important to understand the basics of porch construction and design. Porches can be built using a variety of materials, from brick to stone to wood. The most important thing is to make sure that the porch has proper support so that it can handle the weight of furniture, people, and anything else you might want to put on it.
Moisture is one of the most important considerations when building a porch. Remember: porches are outdoor spaces, so some metals and fabrics can rust and absorb moisture, or fade from being in the sun. If the porch is not properly sealed, it can lead to water damage and rot. That's why it's important to use high-quality materials that will stand up to the elements. Regardless of the style you decide on, make sure you adhere to local building codes and implement your porch ideas safely. With proper care, a porch can last for many years and provide years of enjoyment.
Steps to a New Porch
Porches are a great addition to any home. But before you can sit back and enjoy the view, there's quite a bit of work that goes into a porch job. Here's a quick overview of the steps involved in porch construction:
The first step is to prepare the site. This involves leveling the ground and preparing the foundation with special tools.
Next, the framing is built. This includes putting up the beams and joists that will support the porch floor.
Once the framing is complete, the flooring can be installed. This is usually done with wooden boards or concrete pavers.
The next step is to add the railing. This helps to provide safety and support for those using the porch.
Finally, the roof is installed. This provides protection from the elements and completes the look of the porch.
Find The Ideal Porch Design Plan
When it comes to porch design, there are endless possibilities. It all depends on what you want to use your porch for. Do you want a serene place to relax, rest, and enjoy the fresh air? Or do you want a space for entertaining guests? Maybe a table and chairs for home-cooked meals, or grilling with family. Once you have a general idea of how you want to use your porch, you can start planning the details. Will you need furniture? If so, what kind? And don't forget about the little things that make a big difference, like cushions and pillows. With a little creativity, you can design a porch that's both functional and stylish.
Why Should A Porch Be My Next Home Project?
A porch can provide numerous benefits to a home. It can create an additional outdoor living space, serve as a transition between the indoors and outdoors, and provide a place to relax and enjoy the fresh air. A porch can also enhance curb appeal and increase the value of a home. Furthermore, a porch can be a great place to entertain guests or host gatherings.
As a manufacturer of quality wooden decks, porches, gazebos, and other custom design projects, Cedar Works is in the business of making your indoor and outdoor spaces more comfortable, functional, and impressive. Contact us today for a quote on your next deck project!