Add a Beautiful Gazebo to Your Commerce, MI Home with Experienced Contractors
---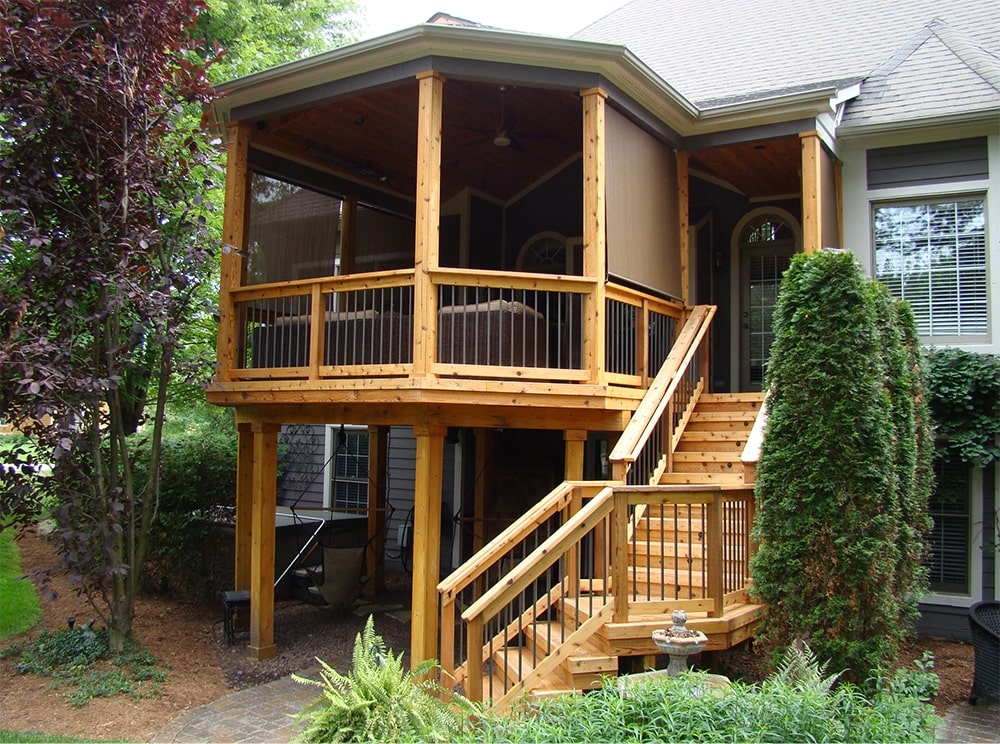 If you have been thinking about adding a gazebo to your property, you may be wondering what the construction process entails. Fortunately, Cedar Works offers gazebo construction services, making it easy to enjoy your own shade and add this functional and aesthetic feature to your home's front yard or back yard.
In most cases, the construction and install process will begin with a consultation in which we will assess your needs and develop a custom design for your gazebo. Once the design is finalized, Cedar Works will obtain any necessary permits and begin construction. The gazebo construction process typically takes several weeks to complete, but the finished product will be a beautiful addition to your home that you can enjoy for years to come.
With over 35 years of experience, the Cedar Works team takes pride in building outdoor structures that offer flexibility, practical functionality, and an endless array of possibilities for creating your backyard oasis. Contact us now for the best deals on gazebos, pergolas, decks, porches, and more.
What is A Gazebo?
A gazebo is a type of pavilion structure that is often found in gardens or parks. They are typically octagonal or round in shape and have a roof, making them a popular spot for relaxation or conversation. Many gazebos also have benches along the perimeter, providing a perfect place to enjoy the surrounding scenery. They are typically built from wood and feature a domed or arched roof.
Gazebos can be found in a variety of sizes, and they are often decorated with colorful accents. Many gazebos also have features such as latticework, exposed beams, stained glass, and even a ceiling fan inside. Gazebos provide a shady, sheltered spot for outdoor activities such as picnicking or reading. They can also be used as a focal point in a garden or yard.
Gazebos come in a variety of styles to suit any taste, and they can add charm and character to any outdoor space. To learn more, check out our project portfolio and testimonials.
Create the Outdoor Living Space of Your Dreams
Cedar Works is a leading manufacturer of high-quality outdoor gazebos. Our gazebos are made from the finest materials and are designed to withstand the rigors of weather and time. Our gazebos are available in a variety of sizes and styles, so you can find the perfect one to suit your needs.
With easy assembly and easy installation, Cedar Works gazebos are the perfect addition to any home, garden, or patio. They provide a beautiful focal point for your outdoor space and can be used for entertaining, relaxing, or simply enjoying the outdoors. Contact Cedar Works today to learn more about our selection of outdoor gazebos and to find the perfect one for your home.
Outdoor Space Ideas
It can be easy to get caught up in the excitement of planning a new outdoor living space without giving much thought to how you actually live. But taking the time to consider your needs and habits before starting construction can save you a lot of time and money in the long run. For example, if you love to entertain, you'll want to make sure there's plenty of room for seating and dining. If you have young children, you'll want to create a space that's safe and fun for them to play in. If you're looking for a low-maintenance space, choosing materials that are easy to care for will be key. By taking the time to think about how you live, you can create an outdoor space that's practical and perfect for your needs.
Gazebo Patio Furniture
A patio is a great place to relax and enjoy the outdoors, but it can be tricky to find the right furniture. Look for pieces that are comfortable and durable, so you can enjoy your patio for years to come. If you already have furniture that you love, that can help you decide the size and layout of your gazebo.
Fire Pit
A fire pit can be a great addition to a gazebo. Not only does it provide warmth and light, but it also creates a focal point for gathering. Whether you are hosting a party or simply enjoying a quiet evening with family, a fire pit can help to create a memorable experience. There are a few things to keep in mind when choosing a fire pit for your gazebo.
First, make sure that the pit is the right size for the space. Second, consider the material of the pit. If you want a more rustic look, choose a pit made of stone or brick. If you prefer a modern look, select a pit made of stainless steel or another type of metal. Lastly, be sure to choose a safe location for the pit away from any combustible materials. With these things in mind, you can enjoy all that a fire pit has to offer in your gazebo.
Benches
Benches are a great way to add seating areas without taking up too much space. They can also be used as a coffee table or side table when not in use. In addition, they can add visual interest to the gazebo and help to define its space. Whether you are looking for a place to read a book or simply chat with friends, seating in a gazebo can provide the perfect spot.
Decor Details
Now that you've installed your beautiful new gazebo, it's time to start thinking about decor. After all, a gazebo is the perfect spot for entertaining guests or simply enjoying a quiet moment in your own backyard. The good news is that there are endless possibilities when it comes to gazebo decor. From string lights and floral garlands to comfy cushions and area rugs, the sky's the limit.
Contact Us Today for A Gazebo Construction Quote!
A gazebo is the perfect addition to any backyard. It provides a space for outdoor entertaining, and it can also add value to your home. If you're looking for a gazebo, contact Cedar Works today. We specialize in creating custom gazebos that are tailored to your specific needs. We use high-quality cedar wood that is naturally resistant to rot and insect damage, and our craftsmen are experienced in designing and building gazebos of all shapes and sizes.
Whether you're looking for a simple structure or a complex design, Cedar Works can help you create the perfect gazebo for your home. Contact us today to get started.