Stunning Cedar & Ipe Decking Installations by Commerce, MI's Deck Experts
---
When it comes to your outdoor living space, your deck is the center of the action!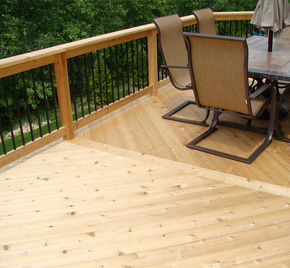 Between barbecues, soaking up the sun, and sitting under the stars, your home's deck is where you spend the majority of your time when the weather is nice. Don't you want your summers spent in a beautiful environment? At Cedar Works, we're known throughout Southeast Michigan for our custom cedar decking and Ipe decking. Given our over 35 years of experience and our knack for design, we can install a beautiful deck that not only complements your home, but makes it the go-to hangout on your block!
Cedar Decking
Although widely imitated, you can't beat Western red cedar decking for a traditional wood deck. This wood's beautiful color and texture deepens over time. Stable and long lasting, its natural preservative oils make cedar decks durable, weather resistant, and insect-free. Cedar is easy to work with, easy to shape, and easy to finish, making it great for custom projects. Adding cedar decking or other outdoor structures enhances the value of any home, since its wide variety of grades and finishes complement all architectural styles.
Natural cedar can endure years of exposure. As a result of its low density, your cedar wood decking will resist warping, twisting, shrinkage, and cracking. With its natural warmth, character, and beauty – as well as relatively easy care and maintenance – cedar will continue to be a classic decking material for years to come. Cedar is also an earth-friendly building choice; wood can be both recycled and regenerated, and it is fully biodegradable. Green, beautiful, and a great value, cedar decks really do have it all!
Ipe Decking
A wood decking material from South America, Ipe (pronounced ee-pay) has a unique ability to bring the warmth and beauty of indoor hardwoods to the outdoors. This wood naturally resists splintering, rot, insects, ice, UV exposure, and salt. It is also Class-A fire rated for your family's safety! Ipe is a naturally strong, stable, and durable wood, which makes it the perfect material for decks and other outdoor structures. We source our Ipe wood decking materials in a way that encourages responsible, sustainable, and renewable forestry practices in accordance with the International Tropical Timber Organization's guidelines. If you choose Ipe hardwood decking for your custom building project, you'll be choosing the most versatile and useful organic building material in the world!