Beautiful and Functional Trex® Decking in Commerce, MI and the Surrounding Areas
---
Your family deserves a comfortable, durable deck that can weather the storm!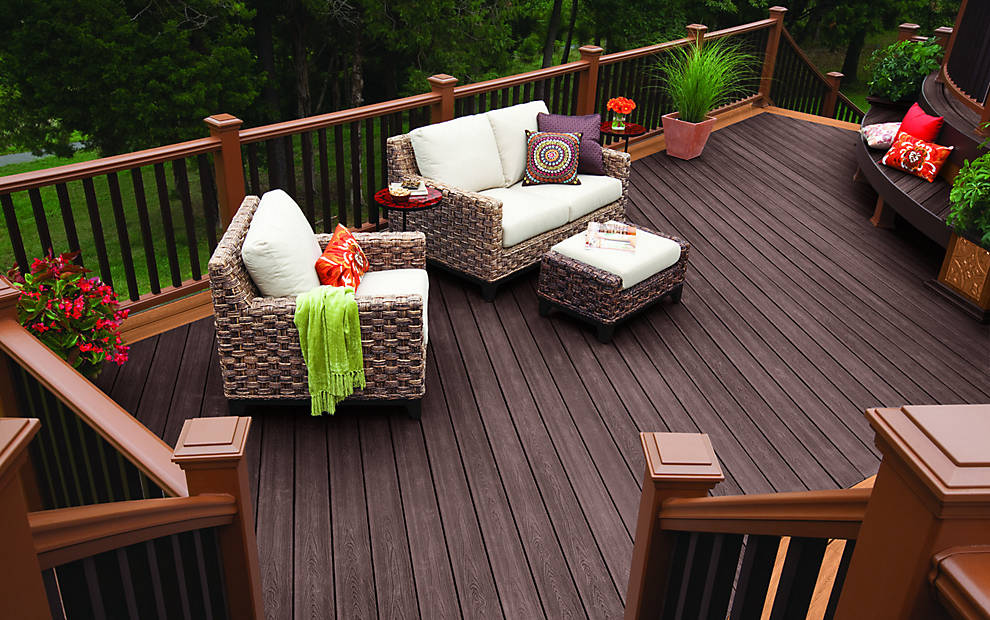 When you choose Trex® composite decking for your outdoor living space, rest assured that you're choosing a material that will last for years to come. It's known for its low maintenance, its eco-friendliness, and its comfort! Cedar Works has been expertly installing Trex® deck boards for over 35 years and can seamlessly integrate one into your outdoor living space!
Trex® Transcend is the premier green decking system on the market.
Our most popular decking choice, the Trex® Transcend is a beautiful option for any homeowner. The deep woodgrain pattern and variety of colors adds a luxurious and timeless look that leaves other deck brands behind. This deck design features the unsurpassed beauty that only Trex® can offer, as well as durability for years to come. There's no sanding, staining, painting, or hassle required, just occasional soap and water cleaning. Trex® Transcend decking keeps its color and finish for years to come, no matter the sun exposure, spills, scratches, or anything else you throw at it. Thanks to Trex®'s 25-year Limited Residential Fade & Stain Warranty, your deck is backed with support from the industry's leading deck manufacturer. The Transcend collection's boards are made from 95% recycled materials, as Trex® uses discarded plastic shopping bags, reclaimed wood, used pallets, and upwards of 300 million pounds of sawdust to manufacture them. This earth-friendly decking system is as green as they come!
The Trex® Enhance collection is a low-maintenance and budget-friendly composite deck that complements any home.
If you're looking for the charm of real wood without any of the hassle, the Trex® Enhance decking system is a perfect option. It's a premium deck made from reclaimed wood, plastic packaging, and sawdust, meaning that Trex® doesn't resort to cutting down valuable trees to create it. It offers homeowners beautiful grain patterns and colors that work with any color scheme. Compared to other decking, it's an affordable option for homeowners who want an elegant finish without breaking the bank!
Trex® Select is the simplified decking that you've been looking for.
Give your home a clean finish with Trex®'s Select line of composite decking. With high-performing shell technology and colors inspired by nature, this line is perfect for those who enjoy the simple things in life. Given its sturdy demeanor, this decking stands up to rough weather and stains better than other decking options available. Trex® Select allows homeowners everywhere the capability to enhance their outdoor living space without succumbing to unaffordability.
Give your Trex® decking a touch of luxury with Trex®'s collection of Transcend rails.
You've installed a gorgeous Trex® deck, now complement it with railings! Trex®'s Transcend collection of premium railings won't warp, splinter, or need to be sanded, meaning that their maintenance is slim to none. They come in a variety of colors that will tie together any home's color scheme and offer your property timeless beauty.
Express your style with Trex®'s line of Signature railings.
Instead of having composite-on-composite railings and decks, add an unexpected aluminum texture with Trex®'s Signature collection of railings. This collection offers neutral colors, rod rails, curved rails, and cocktail rails, allowing you to customize your railway to complement your home. These railings can also feature lights, illuminating your summer nights and keeping your guests aware.
Why Trex®?
Trex® is the leading composite decking company in the world. The brand is committed to giving homeowners a minimal maintenance but high-performing deck experience that stands up to the elements, not compromises to them. All of their decking options are made from recycled materials, meaning that we're not depleting trees from the Amazon or other major rainforests. Add in the affordability of composite decking, and Trex® is the obvious answer for your new deck!
When compared to wood, Trex® is resistant to:
Fading
Warping
Rotting
Cracking
Splitting
Mold
Termites
Splinters
Browse Trex® Products Below