Transform Your Outdoor Living Space with Professional Pergola Builders in Bloomfield Hills, MI
---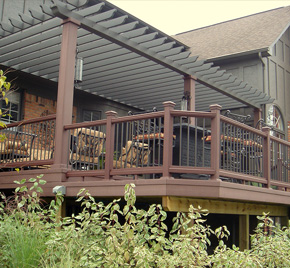 Enhance the functionality and beauty of your outdoor living space with the help of expert pergola builders and contractors. At Cedar Works, we understand the importance of creating a comfortable and inviting atmosphere in your backyard or patio.
Whether you desire a tranquil oasis or a stylish entertainment area, our dedicated team will work closely with you to bring your vision to life. Start your journey to a remarkable outdoor environment by contacting Cedar Works today.
Give Your Outdoor Living Space the Functionality It Needs
Given the summers we have in Michigan, being outside is on everyone's mind. Keep your family out of the sun and your patio or backyard private with a new pergola from Cedar Works!
We've worked with homes of all shapes and sizes and were able to create a complete custom outdoor living space that complemented each unique home. With over 35 years of experience, we specialize in designing and installing custom pergolas that perfectly complement your unique home. Our pergolas not only provide shade and extend your livable space, but they also add architectural character and style to your property.
Pergolas Make a Big Difference to Your Outdoor Space - Both Aesthetically and Practically
A pergola is an overhead structure used to make the outdoors more inviting. Here a just a few benefits from adding a pergola to your garden or outdoor living space:
Extends livable space

Creates shade

Serves as a major landscaping element
As a result, the right pergola design adds grace, style, comfort, and architectural character to any home.
Cedar Works can help design and build a pergola that fits your life and your tastes. If you want to create an inviting outdoor environment, here's your chance!
Pergolas serve as a practical backyard feature, creating shade when you and your guests need it the most. Cedar Works will work with you to make sure that it exceeds your expectations, and that you have a great place to lounge in during the hot summer months!
Every Cedar Works Pergola Project Starts with a Complimentary Estimate and Open Communication
Our experienced design and construction team works with your needs to create a stunning pergola or trellis that truly enhances your outdoor space. Upon learning the specifics of your project, we provide a free estimate and timeframe that you can rest assured we adhere to.
When you're ready to get started, our expert craftsmen put their 35 years' worth of experience to work and install your new addition. You'll love the end result and will be thrilled to show your friends and family!