Create the Ultimate Outdoor Space with Experienced Trellis Builders in Bloomfield Hills, MI
---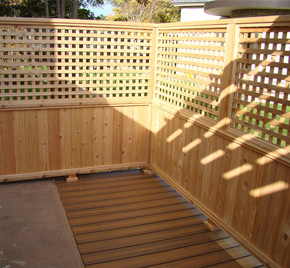 Enhance the uniqueness, attractiveness, and functionality of your outdoor area by partnering with Cedar Works, the leading trellis builders and contractors in southeast Michigan.
From simple gates to ornate custom structures, Cedar Works designs and builds trellises tailored to your home and landscaping style. Contact us today to receive a free estimate and experience the exceptional craftsmanship and open communication that comes with every Cedar Works trellis construction project.
Let us help you create a truly remarkable quality outdoor environment!
Make Your Outdoor Space Unique, Attractive, and Functional by Installing a Trellis from Cedar Works
Given the summers we have in Michigan, being outside is on everyone's mind. A trellis from Cedar Works not only shields your family from the sun but also adds a touch of privacy to your front garden or backyard.
With our extensive experience of over 35 years in installing trellises, we have successfully created custom outdoor living spaces that perfectly complement a diverse range of homes and projects. Whether you desire a trellis to showcase a specific area of your yard or create a private garden oasis, we have the expertise to bring your vision to life.
Adding a Trellis Can Be Both Practical and Visually Appealing
A trellis is a great way to bring attention to a specific part of your yard. Additionally, many people place their decks and trellises strategically to create privacy from close neighbors. You may want to grow wisteria, clematis, or honeysuckle on your deck or trellis for extra beauty and privacy, and a trellis from Cedar Works does just the job!
When it comes to trellises, your options range from simple gates to ornate custom structures. Cedar Works knows how to design and build a trellis structure that works for your home and complements it.
We offer the following trellis types:
In-line
Free-standing
Four-post trellises
We also offer custom built arbors to our customers throughout Michigan.
Cedar Works will help you figure out what materials will best fit your home and landscaping style. Cedar Works builds each trellis custom – not from a kit – and we guarantee the quality workmanship that comes with all Cedar Works services.
Each Cedar Works Trellis Project Begins with a Free Estimate and Open Communication from Start to Finish
Our experienced design team works with your needs to create a stunning trellis that truly enhances your outdoor space. Upon learning the specifics and expectations of your project, we provide a free estimate and timeframe that you can rest assured we adhere to.
When you're ready to get started, our expert craftsmen put their 35 years' worth of construction experience to work and install your new addition. You'll love the end result and will be thrilled to show your house to friends and family!