Elegant Screened-In Porches and Custom Gazebos in Commerce, MI and the Surrounding Areas
---
Summer nights are perfect for relaxing with friends and family, and your home deserves a space perfect for such an occasion.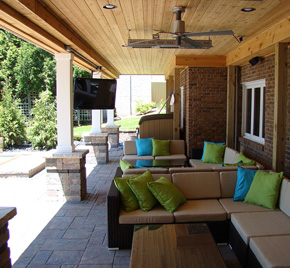 At Cedar Works, we have over 25 years of experience creating custom porches and gazebos for our clients across Southeast Michigan. We understand the importance of these structures and how they can improve both the beauty and functionality of your outdoor living, so we only use premium materials and expert craftsmanship on each project we complete. We're extremely devoted to the work that we do and are reassured of our efforts when our clients express how satisfied they are with their new porch or gazebo!
A screened-in porch makes a great addition to your house.
When you consider building a porch, you can enjoy the great outdoors in a Cedar Works custom cedar room without worrying about insects. A screened-in porch for the front or back of your home provides shade and comfort during the day and a bug-free, well-lit place at night. It's a perfect place to entertain, dine, relax, or read a book. Cedar Works offers many additional porch features, such as skylights and tongue-in-groove ceilings. We can help you design and build a custom screened-in porch that truly is a room to live in. Expand your home into Michigan's great outdoors with a Cedar Works custom cedar room.
Gazebos are not just pretty structures for the yard.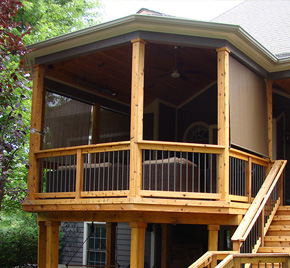 Cedar Works can help you design and build a gazebo that provides both beauty and practicality to your home. Our gazebos are places to relax and enjoy nature. Since we build with the highest quality materials and workmanship, we can assure you years of value and satisfaction with your new outdoor living space. Adding a gazebo to your deck, patio, or yard is a great way to increase the comfort and beauty of your backyard environment. Cedar Works would love to help you design and build the gazebo that best suits your needs, your space, and your budget.
Each outdoor living project starts with a free estimate and clear timeline.
Our team of outdoor living builders are highly qualified to create stunning porches and gazebos. When we first learn about your outdoor needs, we provide a free estimate and create a design mockup. When you're satisfied with the plan, we get to work installing it with our two decades' worth of craftsman experience. The end result is a fabulous outdoor space that you and your guests will love!